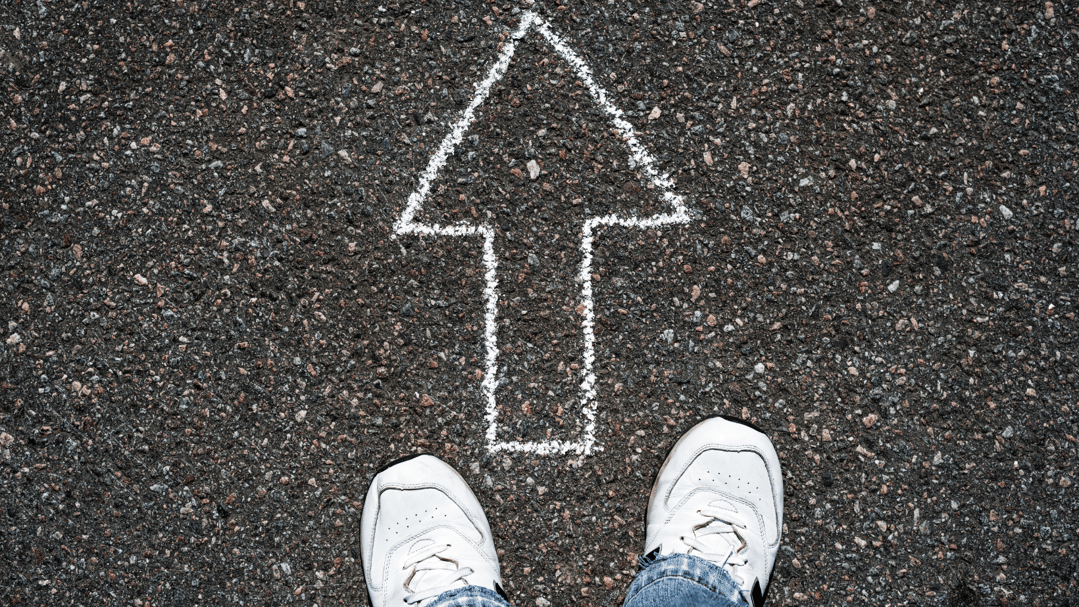 "The COVID-19 booster and flu jab programmes are mission-critical to keeping our population safe. As we head into winter, it remains absolutely vital that we continue to minimise the spread of the virus."
Those were the words of Cllr James Jamieson, Chairman of the Local Government Association in response to a recent COVID-19 update by Sajid Javid, Secretary of State for Health and Social Care.
Expecting people to get a booster was always going to be a tougher sell because it's an ongoing expectation rather than a one-time thing. We can see this in flu jab rates (recommended for everyone over 65) with 72.9% of people aged 69 and over having one in the 2017–2018 season; dropping to 72.4% for the 2019–2020 season.

Leading up to the now widespread call-to-boost, we've been using our tried-and-tested integrated campaign planning approach to develop behaviour change founded strategy and resources – all readily accessible for local government communicators. The latest assets within our Campaign Hub nudge over 50s and eligible groups to COVID-19 and flu booster shot and uptake, tackling ongoing issues of complacency and lack of awareness.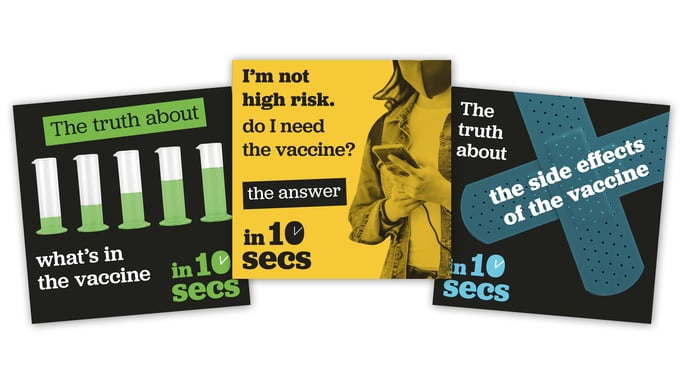 COVID-19 booster shot messaging

Designed to cut through public health messaging fatigue, we use killer creative combined with the power of targeted digital advertising to further leverage interventions that facilitate action. Importantly we respect the need to remain agile and keep adapting. As Daniel Lucey, an infectious-disease specialist from Georgetown University Medical Center says, "It's a constant series of battles and multi-year war between SARS-CoV-2, its variants, and our vaccines, which are from 2019. We're behind. The virus doesn't sleep, but we do."

Methods such as paid digital advertising are perfect for keeping up with the 'sneaky virus'. In this case, as older groups are less frequent social media users, we recommend targeting national and local news online to achieve 95+% reach and consistent frequency of messages reliably.
Relentless campaigning to increase testing and tackle vaccine hesitancy over the past 12 months has taught us that targeted programmatic media buying enables us to stay nimble and in front of precise audiences with minimal wastage (both time and funds). In the right place at the right time, through reminders, prompts, and primes, we are helping councils knock through barriers – communicating ease of action while busting myths and highlighting social norms.
Hesitancy at play

Using the '3C model' lens, we can better understand any barricades to boosters and deploy target behavioural interventions.
Confidence

We don't usually campaign for vaccines and their efficacy under conditions of uncertainty. Typically, we'd be armed with detailed information on immune responses, effectiveness, risks, duration of immunity, and the need for repeated vaccination/boosters – for example, the shingles vaccine recommended for 70-79-year-olds. The COVID-19 vaccines are brand new, so scientists don't yet know how long they will remain effective without additional intervention.

The strongest predictors of intention and behaviour related to vaccination are that individuals need to understand and believe that it is safe and effective. Our further challenge is the magnification of record distrust in information, policymakers, and health professionals. Our 'facts in 10 seconds' approach helps explain quickly the difference the general need for a booster, the side effects, and other questions answered through bite-size targeted content.
Complacency

People are complacent and perceive that if they're at a low or no risk of contracting, becoming ill, or dying from the virus, there's little reason to get the booster. While communication about risks has cut through to older people, particularly those who are retired, observations following the initial booster launch showed lower than expected uptake, which anecdotally we've attributed to increased complacency (more so in women and those unemployed, aged 50-56).

This informed our decision to explore additional creatives with harder-hitting and more emotional approaches, alluding to the consequence of missing out on winter festivities as a result of getting COVID. We're also targeting those who through their threat appraisal have typically rated the virus as less serious – men, those living in lower socio-economic circumstances, and those from BAME groups who may not perceive themselves at risk and view the vaccine and associated boosters as unnecessary.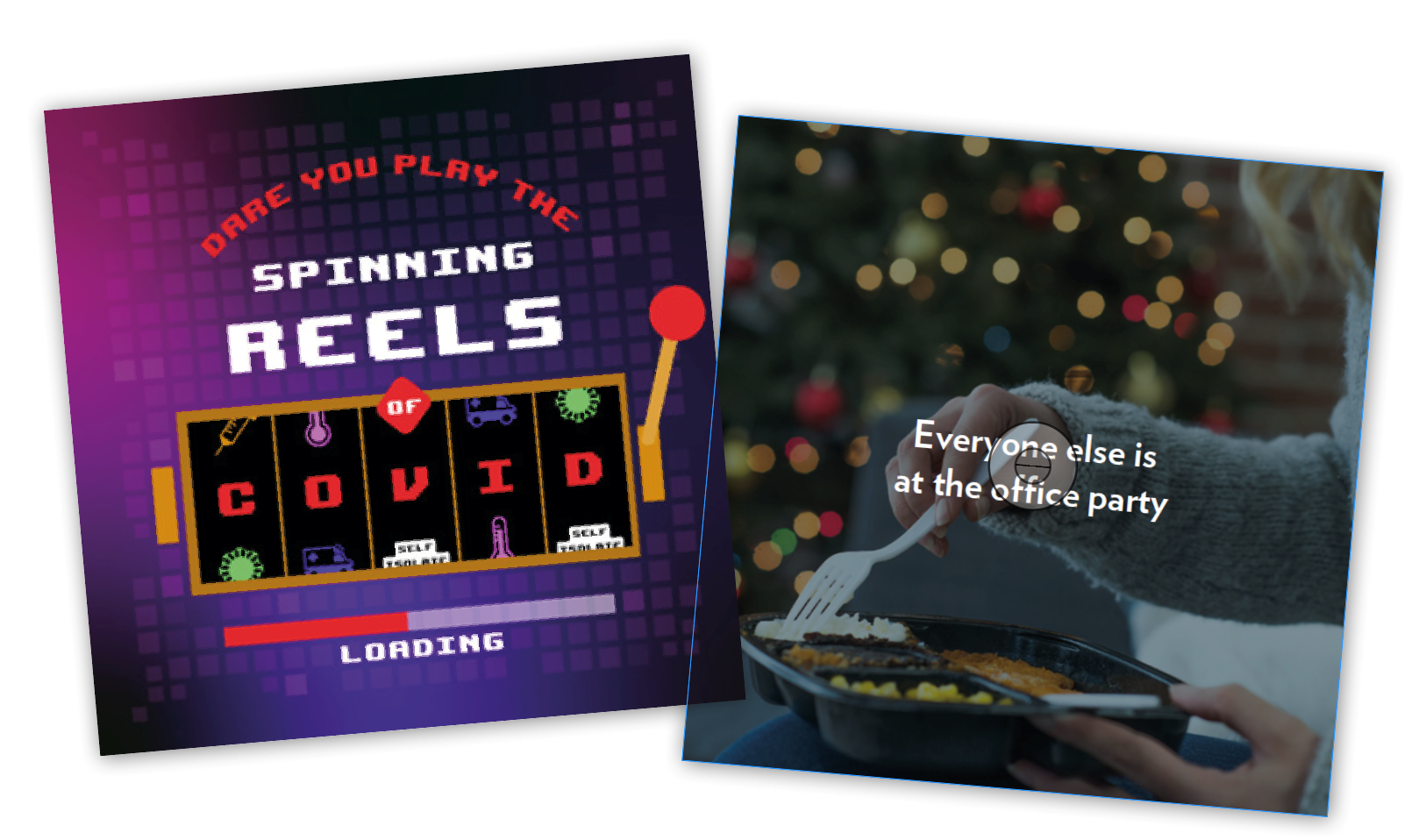 Convenience

A study of H1N1 in the UK found that one of the strongest predictors of intentions not to vaccinate was given as: "I cannot be bothered." Campaigns should include considerable effort to convince older people of their risks compared to the ease (and potentially new normality) of getting their booster alongside their annual flu shot.
Not just facts and figures

Our strategic messaging and (free) assets have been developed in partnership with council and community working groups and focus groups to combat message fatigue and apply behavioural science. Our campaign strategy breaks barriers ("it's easy to get your booster"), uses social norms ("most people your age..."), choice architecture ("you have options on how to get it"), aligns individual and collective interests, and most importantly, plays out implementation intentions.

Alongside deployment and tracking by Public Health and local providers to identify comorbidities, and track vaccinations and invitations for boosters, our tactics remind and encourage people to plan their booster now and not wait. Research demonstrates that prompting people to develop a plan (implementation intention = "nudge") in the direction of desired behaviour is practical and easy to deploy.

Like routine flu inoculation, seasonal reminders and planning prompts effectively get people to vaccinate, especially if they come from a trusted source.

Implementation intentions and planning

Encouraging people to make plans (specifying the when, where and how of an action) makes it more likely that they will follow through with it. The intention-to-behaviour process promotes goal achievement while eliminating classic issues of control with goal-directed action:

"When situation x arises, I will implement response y."

By linking goal-directed behaviour to anticipated situational contexts and cues, implementation intentions can create heightened accessibility and induce direct (automatic) control of the intended behaviour.

Moving forward, if the concept of vaccine passports continues to embed, our model will adapt – intertwining further behaviour change with science-based interventions such as incentives, sanctions, and requirements.


Join and access the Campaign Hub

Most campaigns in the public sector have a common purpose, and we think it makes perfect sense to pool strategy, resources, implementation plans, evaluation, and learning.


You can now access our Campaign Hub resources to boost COVID vaccination and testing, increase confidence in returning to the high street, and recruit foster carers. Everything is ready to download and deploy – from research through to design. To supercharge your results, our digital media buying service will ensure you target your audiences effectively and efficiently.
Find out more online, or email hello@westcocommunications.com to learn more about our approach and make a difference today.