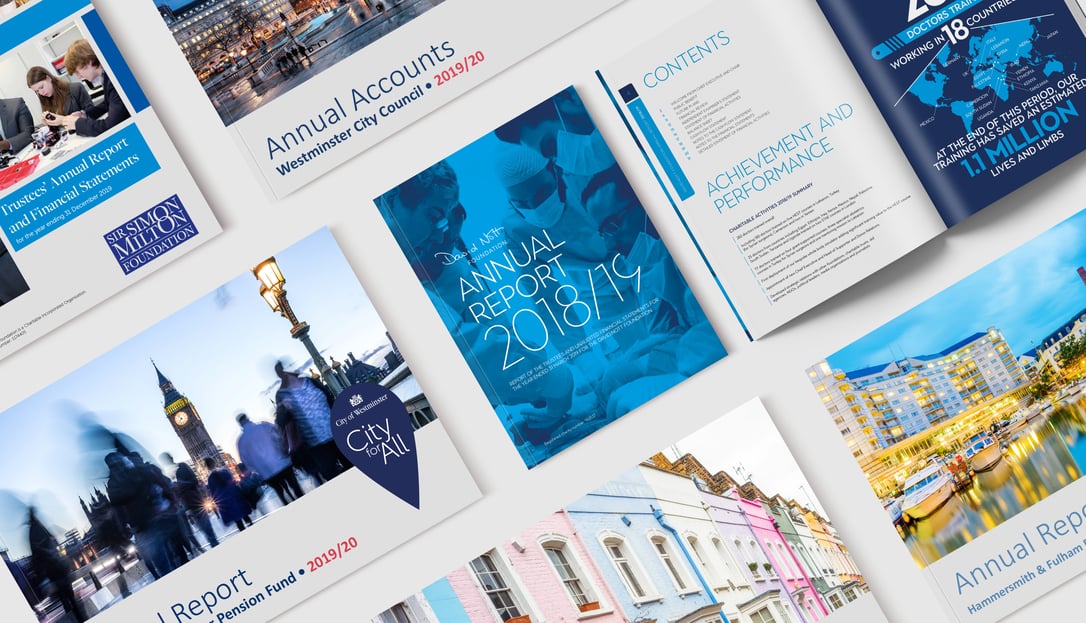 The annual report has long been seen as an opportunity to reiterate the vision and ambition of the leadership team. Today more and more organisations want to talk about brand purpose, sustainability, diversity and the positive impact their business can make.
Performance is measured in human terms, not just in financial ones.
We recently worked on a company report for a healthcare company that included case studies with staff and patients, to highlight how their joined-up thinking was improving the lives of those who worked for the company as well as those benefiting from its services.
And with these evolutions in the purpose of an annual report, comes an evolution in its design.
Our design team has been producing annual reports for public sector organisations for years. Some, like Westminster City Council's, are very large and complex, running to 150 pages or more, whilst others, such as the David Nott Foundation, read more like impact reports. Regardless of length, each report needs to be designed to reflect the specific requirements of the document. For some, this will mean finding the most elegant way of laying out many pages of detailed financial information; for others, it will mean creating creative graphics that make data more interesting and understandable.
Often the brief is about making the report more people-focused, putting more emphasis on imagery and creating narrative content, similar to what you might expect to read in a journal or magazine interview.
We've seen the demand for printed annual reports diminish over the past couple of years, with more clients requesting a version that is only available as a download. Not only does this reflect a general move away from print to online, but it's considerably cheaper.
Cost is another key consideration when commissioning an annual report. Over the years, we have created templates for clients that allow them to put in much of the content themselves. This solution is cost-efficient, especially where a large number of pages are taken up with content that doesn't change too much in structure year on year—for example, balance sheets, P&L tables, etc. Thus allowing the design budget to be focused on the more bespoke pages of the document.
Working with our public sector clients, we understand that above all today's annual report needs to be an inspiring and engaging document, bringing together great design, strong content and a corporate narrative with the mechanisms of financial transparency and governance.
Author: Jon Lilley, Executive Creative Director at Westco