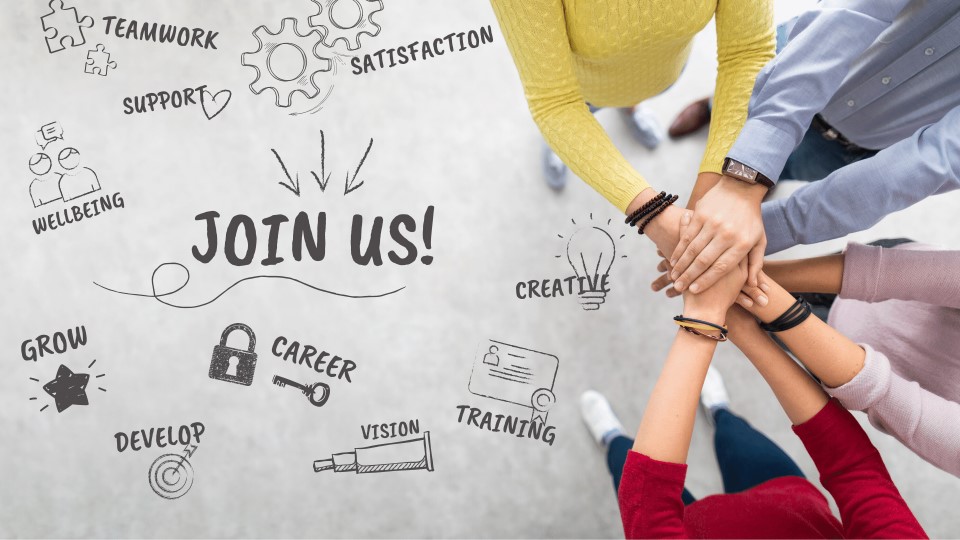 Westco are always on the look-out for brilliant communicators, designers, insight experts, events co-ordinators, digital marketing gurus and campaign strategists to place in interim, temporary and permanent roles for our ever-growing client list.
From local government, to the NHS, regulatory agencies, and non-departmental public bodies - we are permanently recruiting!
On our 'books' we have candidates who are passionate about communications, have a deep knowledge of industry best practices, a wide breadth of skills, are flexible, efficient and focused on delivery – but we always have room for more people!
What are we looking for?
We are on the hunt for 'Westco Works associates' across all levels. So yes, that does mean potential Head of Communications, but….we are seeing more and more requests from our clients for mid-level specialists. That could be a campaign officer, a media specialist, a digital communicator or sometimes communications assistants. So, no matter where you are in your career, we want to hear from you.
One of the questions we receive quite regularly is; 'I have worked in marketing before, but never in the public sector – does that matter'? Of course, if you have worked for maybe a local authority, fire service or NHS trust before then it does help – particularly when it comes to understanding the challenges that our clients might face. But, in reality it isn't always an essential criteria. We find that often people who come from other industries, bring a unique and refreshing approach.
The main thing is we are looking for is experts who have passion for communities and want to really make a difference to people's lives. We want people who love to jump right in, love collaborating while valuing the three pillars of the Westco culture – being Agile, Brave and Creative.



A good CV
It should go without saying that good communicators should be able to market themselves with a good CV. A good CV is clear, concise and makes every point necessary without waffling. You don't need pages and pages of paper – you just keep things short and sweet (no more than two pages).
There is no right or wrong way to write a CV but there are some common sections you should cover. These include: personal and contact information; education and qualifications; work history and/or experience; relevant skills to the type of job you want etc.
The way you present your CV is important. But it doesn't need to be snazzy. We have had people create their own logos and branding, or used a free online designed template. Whilst that is a great way of demonstrating you know how to use illustrator, it isn't always needed. We just want the information to be clean and well-structured – and ideally no more than two pages!
But the most important thing you need to show during your application process, particularly if you haven't worked in the public sector before, is your transferrable skills to the industry, and importantly that you are interested in learning, improving communities and making a difference to people's lives.
Also, when you are interviewing with our clients, preparation is key! Try and do some research beforehand so you can demonstrate some knowledge of the organisation. As a minimum look at their website / local media coverage and their social media accounts. But also consider reading any relevant published plans or strategies.
How does our recruitment process work?
It is quite straight forward. You can:
apply for one of our available jobs online

(check our website regularly as we are always adding new roles) you can apply online directly and once we receive your application, we will contact you

ask to 'be on our books'. When clients contact us, our first port of call is to reach out to our talented pool of potential associates. To join our pool, you need to:


once we have your information, we will contact you directly to discuss what role you are looking for

then you sit back, and wait for us to get in touch with available positions

if we have roles that interest you, we will forward your CV and information onto the client

the client will then conduct interviews (we will always outline the process with you in advance)

all going well, the interview will be successful and we will then agree your start date and working arrangements (subject to referencing and other checks).
You will then be a 'Westco Associate' and able to access and enjoy all the benefits that Westco has to offer.
And, if in doubt, and you feel you need more information about Westco Works before committing – get in touch. Our team is always happy to talk to you about our work and the benefits of working with us!

Looking for an opportunity to join Westco Works?
If you are looking for a role or want more information about Westco Works - please get in touch. Read here for more information on what working for Westco Works has to offer. 
Or alternatively, fill out our online form or call us on 020 7641 5242.