Business Polling Summary
Westco has developed a Business Tracking Survey for our public sector and local authority clients. We have designed this survey in collaboration with the business development teams of some of our clients to ensure that it captures the data that local authorities need to monitor the impact of COVID-19 on the local economy. This Business Tracking Survey:
Allows local authorities to assess the health of the local economy and how COVID-19 has impacted it

Identify the specific challenges local businesses face and how local authorities

can address them

Is low cost and quick to turnaround
If you would like to discuss how we can successfully launch this survey to support your local economy, please contact our Executive Research Director, Caroline Roper, for more information (caroline@westcocommunications.com).
Many market research agencies continue to publish polling which tracks the impact of the Coronavirus (COVID-19) pandemic. If you would like to read our previous Coronavirus Business Polling Summary blog post with our initial findings, please click here. Below we explore the latest results from polling of businesses in the UK.
Financial Impact
On the 12th June, the ONS published data which showed that GDP in the UK fell by 20.4% in April and that this represented 'the largest fall since monthly records began in 1997'[1]. On the 15th June, the Government removed restrictions that prevented non-essential shops from opening, as long as they take appropriate steps to protect customers and staff visiting these premises. The Government's easing of the lockdown rules was announced well in advance of the ONS publishing their GDP figures, but this emphasises what we have said in previous blogs - that the Coronavirus pandemic has had a significant impact on businesses and, in turn, the UK economy.
Almost two-thirds of businesses, (65%) that continued to trade had experienced lower than normal levels of turnover between the 18th and 31st May. The drop in turnover was fairly uniform across England, Wales and Northern Ireland, but was significantly higher in Scotland at 68%[2].
Businesses in the 'Arts, entertainment and recreation', 'Construction' and 'Accommodation and food service activities' industries remain the most likely to have had a lower turnover than normal. However, there has been a notable increase in the number of businesses in the 'Education' sector that have experienced a lower level turnover over the last two weeks[3].
| | | |
| --- | --- | --- |
| Turnover decreased | Wave 5 | Wave 6 |
| Arts, entertainment and recreation | 85% | 85% |
| Construction | 77% | 78% |
| Accommodation and food service activities | 74% | 78% |
| Transportation and storage | 72% | 71% |
| Education | 57% | 69% |
Wave 6 of the Governments Business Survey was conducted between the 18th and 31st May. Therefore, it is important to bear in mind that businesses were responding to the survey before restrictions on non-essential shops was eased.
Consumer spending
One of the considerations that the Government had when they decided to ease lockdown restrictions for non-essential retail was the need for some sectors of the economy to get going in order to mitigate the economic impact of Coronavirus. However, simply opening shops does not necessarily result in the retail sector returning to acceptable levels of financial health, as countless polls have shown that UK residents are in lockdown because of a genuine fear of catching Coronavirus - rather than because they are just 'following the rules'.
In a poll conducted between the 21st and 24th May, Ipsos MORI found that 62% of UK residents felt that opening businesses put too many people at risk[4]. If this level of concern about re-opening businesses is carried over into July, it suggests that the retail sector should not expect a significant number of people returning to their shops.
Similarly, Savanta has conducted regular tracking polls of UK consumers behaviour. They ask whether respondents left their house 'yesterday'. In general, the figures for the week preceding the loosening of lockdown restrictions are not significantly different to figures the week after non-essential shops were re-opened. Of those that did leave their house, the proportion of people who reported leaving their home to visit a shop that was not a supermarket had not changed significantly [5].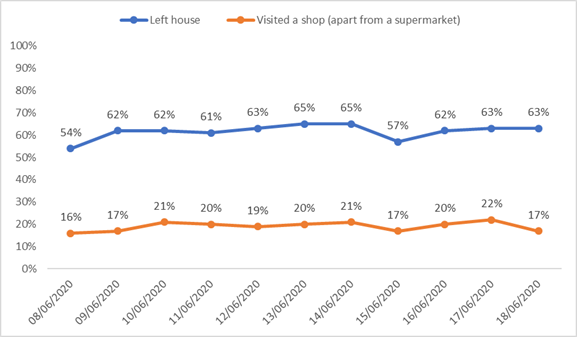 YouGov asked 3672 GB adults, on the 11th of June, whether they expected to spend more or less on retail shopping in the next twelve months. This was framed in the context of easing of restrictions on the 15th of June. Overall, 41% of GB adults said they expected to spend less on retail shopping than they did before lockdown. Fewer than half (47%) said they expected to spend about the same amount, and only 4% expected to pay more. Another poll conducted by YouGov on the 10th of June found that overall exactly half of British adults would not feel comfortable visiting indoor shopping centres while two in five (40%) would feel comfortable in retail locations[6].
Perhaps unsurprisingly, these polls suggest that there will not be an overnight recovery for the retail and shopping sector. People are divided about how safe they feel entering non-essential shops and as a consequence, expect to spend less money shopping. We also have not seen an immediate change in behaviour, as a response to changes in lockdown rules. This also suggests that a level of concern about Coronavirus remains and that it is not likely to change in the short term.
Impact on employees
In the Governments Business Impact of Coronavirus (COVID-19) survey, businesses were asked approximately what proportion of their workforce was furloughed, off sick, made redundant, working at their normal place of work or working remotely (instead of at their place of work). Overall, almost four out of ten (38%) employees have been furloughed, while under a third (31%) were working at their usual place of work or working remotely (28%) [7].
This wave of the Business Impact of Coronavirus (COVID-19) survey also explores whether employers were currently 'topping up' furloughed workers salaries on top of the 80% that the government would fund. Just over half reported that they had not done that for furloughed workers, while around 42% were paying the difference[8].
Author: Rishi Moulton, Associate Director (Research & Insight) at Westco.
[1] ONS, 'Coronavirus and the Impact on output in the UK Economy', June 2020, (Source: https://www.ons.gov.uk/economy/grossdomesticproductgdp/articles/coronavirusandtheimpactonoutputintheukeconomy/april2020)
[2] ONS, 'Business Impact of Coronavirus (COVID-19)' March – May 2020, (Source: https://www.ons.gov.uk/economy/economicoutputandproductivity/output/datasets/businessimpactofcovid19surveybicsresults)
[3] ONS, 'Business Impact of Coronavirus (COVID-19)' March – May 2020, (Source: https://www.ons.gov.uk/economy/economicoutputandproductivity/output/datasets/businessimpactofcovid19surveybicsresults)
[4] Ipsos MORI, 'More think opening businesses puts too many people at risk of COVID-19 and we need to wait' May 2020, (Source: https://www.ipsos.com/ipsos-mori/en-uk/more-think-opening-businesses-puts-too-many-people-risk-covid-19-and-we-need-wait)
[5] Savanta, 'Coronavirus Data Tracker', March – June 2020, (Source) https://savanta.com/coronavirus-data-tracker/)
[6] YouGov, 'Over the next 12 months, do you expect you will spend more or less on retail shopping than you did before lockdown?' June 2020 (Source: https://yougov.co.uk/topics/health/survey-results/daily/2020/06/11/9925b/3)
[7] ONS, 'Business Impact of Coronavirus (COVID-19)' March – May 2020, (Source: https://www.ons.gov.uk/economy/economicoutputandproductivity/output/datasets/businessimpactofcovid19surveybicsresults)
[8] ONS, 'Business Impact of Coronavirus (COVID-19)' March – May 2020, (Source: https://www.ons.gov.uk/economy/economicoutputandproductivity/output/datasets/businessimpactofcovid19surveybicsresults)