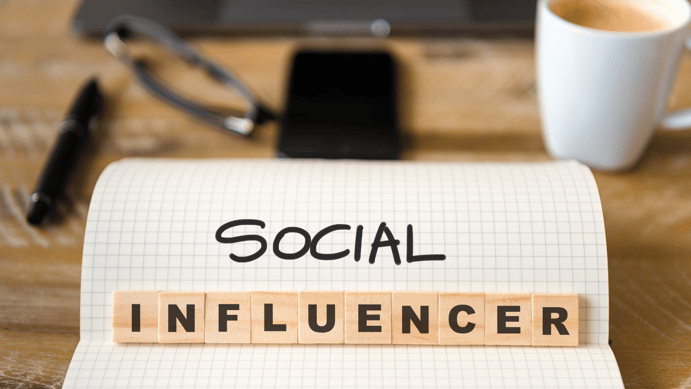 Spend on influencer marketing is set to increase from $1.7 billion in 2016 to $13.8 billion by the end of 2021. Not only is this rise due to the effectiveness of influencer marketing, but COVID-19 has altered all marketing channels and more people are using social media.
"From a PR perspective, influencer marketing is the shift in recognising there are new ways to reach your audience or publics. Traditionally that used to be high-net-worth individuals or journalists. Now it can be anyone with their own network or media."
Influencer marketing campaigns
We're all used to seeing influencer campaigns to promote commercial products. There is a whole talent industry to match you to the right influencer for your product.
However, the not-for-profit influencer market to support social good campaigns is relatively new. But how do you find the right influencer and avoid influencer flop?
The first thing to do is to work with people who feel passionate about your cause - as we have discovered with COVID, few young people feel passionate about vaccination even if they believe in it, which makes it more difficult. It's all about finding a truly mutually beneficial relationship between cause and creator, which naturally results in compelling storytelling. True influence is about leveraging authenticity. So how can public sector communicators ride the influencer wave, cut through the growing trust barrier, and improve more lives for the better?
From recent experience on campaigns such as EverythingCOVID, SightSeeCrowdFree, and Richmond Recycles, we've got some tips to help you develop a successful influencer-driven campaign.
Know your purpose
As with any good campaign, clear and concise insight-led objectives are crucial to success. Influencer marketing goals may include boosting campaign awareness, increasing engagement, getting more traffic, or users completing actions such as signing up for a local service, booking an appointment, or sending a query.
"The first thing to consider in any influencer ,arketing campaign is understanding why your organisation exists, what it's trying to achieve, and waht it stands for. Absent this, and you've yet to influence yourselves appropriatly let alsone aothers."
Understand your audience and find the right voices
You need to first nail down a specific campaign audience in order to successfully brief out your strategy. Are you looking to speak to Gen Z? Or millennials? Do you want to change certain behaviours in people? How old are they, where do they live, and what music do they listen to? Once you can describe the target 'persona', it's easier to identify the correct type of influencer (from micro through to all-star) for your campaign objectives.
Next, you should be ready to search for the right creators for your cause. Some platforms can help you do this, such as Tagger and Klear. Alternatively, you can explore different channels and contact influencers directly. Scroll through your organisation's existing followers and search via campaign or other relevant hashtags - it's likely you already have the right fit within your sphere, making the engagement much more genuine.
Not all channels are created equal, and some work better than others. TikTok is likely to perform better with young people, whereas Facebook would gain more traction with their parents. Choose your platforms based on your audience and make sure their features will enable your objectives (sharing, commenting, evaluation, etc.)
Look through influencers' feeds, check out their previous collaborations, and take note of their tone of voice and visual style - to ensure their content style matches your vision. It's also essential to check that the influencer's audience matches your campaign demographics and that they have high engagement to meet your goals.
Have your channels and metrics ready
Decide how you want to amplify the content further and set up any hashtags, account tags, tracking links, and URLs you need to do this.
Consider what you need to measure to access the effectiveness of your campaign against your campaign objectives, and check the metrics you have access to are ready, such as:
Website traffic

Likes

Impressions

Clicks


Shares

Follower count

Event actions (sign-ups, bookings, queries)
Note that some channels, such as TikTok, are harder to evaluate, and you may not be able to glean as much demographic detail from Google Analytics for users under the age of 18 years.
Vet and brief (handing over creative license)
You need to give an influencer bandwidth for creativity, but also a specification of do's and don'ts to avoid blurred lines. Your campaign hangs on a clear brief. Help the influencer understand and achieve common goals by giving them plenty of information about your campaign upfront. Then let them do what they do best with their audience. It's good to be clear but less is more – don't over script the campaign. Trust that the influencer knows what works with their audience.
"More than 80% of marketers find influencer marketing effective. Collaborating with influencers helps companies create content that rises above the noise and resonates with their target groups. It also helps them build trust, establish brand ideals, and circumvent ad-blockers."
Have clear protocols on how the content will be shared organically and through paid media. Use your briefing document to outline any regulations. For example, if you are engaging influencers for a public health campaign, you'll need to insert the guidelines and effectively highlight necessary call-outs or terminology.

When considering an influencer, we recommend prioritising engagement rates over follower counts. It's not just about the audience; it's about content and the ability to amplify. 'Micro-influencers' (people with followings of 1,000 rather than 10,000) are just as important because of their ability to penetrate local networks and specialist networks through their relationships. Not only is this important to get good ROI, but it also helps you weed out influencers who have bought followers or don't know how to genuinely connect with their audience. On Instagram, for example, engagement rates are slightly more than 2% so you should be wary if a micro-influencer has more than 50 comments on a post.
Trust the process and enjoy the journey
"You can't tiptoe into social media. You have to jump into the pool. People have a natural fear of it. But the scary part is not being there. Your customer is already there."

- Dave Saunders, Madison + Main
At the end of the day, you have to be brave, and allow the influencer space for their imagination and creativity to flow (within do's and don'ts). This means that you might not like the end product, but the audience you are trying to influence will. Sometimes we have to remind ourselves that we are not the target market!
We understand introducing influencer marketing into campaign strategies is unprecedented, uncharted territory for many public sector communicators, but with the proper match, briefing, and a little trust, you can achieve great results. If your team wants to experiment with influencers but hasn't had the time or resources to produce your own campaigns, we here at Westco would love to help you do it!
Get in touch
online
or email
hello@westcocommunications.com
to find out more and discover how we can help you deliver an effective and collaborative influencer campaign.