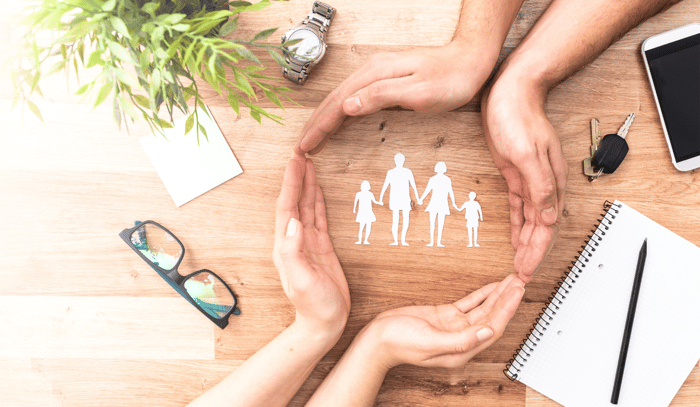 With the return to face-to-face information events, we've drawn on the experiences and expertise of different local authorities to share best practices for others to learn from to ultimately help increase the number of carers across the country and reduce the acquisition costs of recruiting those carers.
In a recent webinar, Westco's John Cooper and John-Paul Danon of CAN shared insights from 60+ foster carer recruitment campaigns, and key takeaways for traditional face-to-face information events about the nuts and bolts of fostering for a typically large audience.
At the end of the day, the aim is to get more people to attend these fostering events and for more attendees to take the next step.
Put yourself in the shoes of the enquirer
Assume that event attendees know nothing about fostering or your service. Everything you do has to be geared towards making the process as easy and as simple as possible. Here's what that looks like in practice…
Where is it going to be held?
Is it easy to get to?
Is there parking?
Is the venue well known, i.e. do people know where it is?
Are the fostering events always in the same area?
Is it Covid-safe, i.e. easy to distance if people are worried?
What day of the week will it take place?
Is it always the same day of the week? Many people have recurring commitments on certain nights, so it's important to rotate over different days.
Avoid school holidays (people will be away).
Be flexible – you don't always have to stick to a certain day and a certain time.
Hold events more frequently during busy times of the year, e.g. January, February, September, and October.
What time is the fostering event?
Don't start too early (5pm) or too late (7pm) – 6.30pm is ideal for most places.
Accommodate latecomers – make a plan for people who may turn up later than expected.
You've got to make everything as simple as possible for anyone that's enquiring. Hold events in areas where you need carers and you'll ultimately get more carers in the areas that you need them. Remember that the more fostering events you hold, the more chance you've got of people actually coming to them.
Creating awareness of the fostering event
It's no good putting on an event if people don't know about it. There are loads of low-cost activities that can help to drive attendance. Consider the following to advertise your fostering event:
List the event prominently on your fostering web pages or microsite (ideally on the homepage).
Create a Facebook event post (not just a general Facebook post) so that you can share more details about the venue and the fostering event. It's also worth boosting the event post to reach a wider audience, You could also encourage sharing amongst your network of colleagues and associates.
Email your contact list of previous enquirers a few weeks prior to each fostering event.
Use flyers and posters featuring six months' worth of events and put them up in as many places as you can.
Try to get free PR in the local press, which might have column space available.
Think about how you present your information
Many people have preconceptions about councils as being stuffy, formal, or judgemental. Here are some tips to break down barriers and encourage better attendance:
Emphasise "friendly fostering team" in your wording and include friendly or smiling photos if you can. It's all about being approachable.
Emphasise that you're going to have foster carers at the event. A phrase that's good to include is "hear from and chat with foster carers". This is what most attendees value – hearing about real-life experiences.
Be clear about the date, time, and venue. People shouldn't have to hunt for this information.
Reassure people about Covid protocols or protections.
Include a map of the location, even if it's well-known. Somebody may travel in from outside the area to attend the fostering event. Embed a Google map for the location on your webpage too.
One thing to establish early on is whether the event will be invite-only or open to all. Invite-only can be a hurdle which puts a lot of people off because it often requires people to really commit, particularly if you use something like Eventbrite and ask people to register. Of course, there are good reasons to be careful about who attends these information events, but a venue risk assessment and a security guard can do a lot to deter anyone who might want to cause any disruption.
Our advice? Keep the fostering event open so anybody can come and include a mechanism for people to indicate their intent to attend. You might include the following wording with your map: "You don't have to book to attend the event, but it really helps if we know that you're coming".
Venue planning and attention to detail
As mentioned previously, keep yourself in the shoes of the enquirer when it actually comes to the fostering event. People might have found the location, but is it easy to find the entrance to the building? Signpost where people need to go or have someone there to greet people as they come in and guide them to where they need to be. While we're on the subject of signposting, point out tea and coffee stations as well as the toilet to put attendees at ease.
The member of staff who greets enquirers should be friendly and wear a badge to identify themselves to potential fosterers. Refreshments are also important: provide non-dairy milk alternatives as well as a snack like biscuits – people may have come straight from work and a drink and a snack make people much more comfortable.
Capture people's basic details as they come in with a simple electronic or paper form. Also, give them a welcome pack as they arrive. In this pack, include the application forms so that the seed is already planted and you're making it as easy to apply as possible. Don't add additional steps by requiring people to request the forms.
The presentation
Your presentation could last for over an hour, so you've got to keep people interested enough to stay and chat with you afterwards. Here are some tips to get the most from your presentation:
Start with the end, i.e. explain what the next step is after the event at the beginning.
Encourage attendees to 'stop and chat' after the event and ask questions.
Get foster carers to do as much of the talking as possible, to tell their stories, and refer to their experience or insight throughout the presentation to tee up those stories.
Have a range of carers at the event with different levels of experience and from different backgrounds (single, older, younger, etc.)
The most powerful voice you can have at an information event is a young person or a care leaver who is positive about the service and understands what people need to know and how to get that point across. A young person who's articulate, positive, and succeeding in life opens the door for people to foster older children.
Make it emotional – get carers telling stories that will make people laugh, or cry (in a heartwarming way).
Be honest about the challenges that fostering brings – don't 'rose tint' everything. Acknowledge that it will be the most challenging thing you'll do, but also the most rewarding.
Encourage people that they're going to make good foster carers. Talk about how many people in the audience will be going on to foster within six months. Plant the seed that it is actually going to happen.
Use lots of slides, minimal text, and loads of images to keep people engaged. Ask questions and encourage interaction to get them involved.
Mix it up as much as possible – play videos as well, if you have them, and divide the presentation between different people to keep the audience's attention.
Sell the service
When it comes to your staff on the ground, make sure that they want to be there and are happy to be there. The worst thing you could do is enforce a rota where every single social worker in the team has to take a turn to cover the information event. They should be passionate and positive about fostering – the audience can tell when the social worker doesn't want to be there. If they're a little tired or a bit negative, that can really put people off.
Another thing to be mindful of is the language that you use. Don't slip into jargon that's going to confuse your audience. Using terms like "attachment disorder", "foetal alcohol syndrome", or "CAMHS" without explaining them does not put people at ease. Put yourself in the enquirers' shoes and assume they have no knowledge of any of this sort of language.
You also need to sell the service:
Talk about the advantages of fostering for yourself and the disadvantages of going to an IFA. People will be aware of IFAs so don't pretend they don't exist. Check out the Foster with your Council website for reasons to foster with a council instead of an IFA.
Emphasise the rewards of fostering, i.e. that they're not doing it for the money.
Lastly, tell them that you want them to foster for you. Let people know that you want them to take the next step with you.


Strike while the iron is hot
At the end of the presentation, encourage attendees to stay and chat. Make sure the kettle is already boiled so people don't have to wait around and set up private areas for conversation so people can talk about their personal circumstances. Make sure you have your list of visit slots available so that you can book someone in right there and then.
A good idea is to have people evaluate the event at the same time with a simple questionnaire on an A5 piece of paper so it's not so daunting. Include just a few questions about the venue, content, and presentation, scored one to ten: one being lowest, ten being highest. And include a space for comments. Let it be anonymous as well. This lets you know where the event is lacking and identifies opportunities for improvement.
The last step is to follow up – this is your first job the next morning. Follow up with everyone that's booked a visit. Email those that didn't book a visit and thank them for coming. Let them know that they can still book a visit and provide some available times. From there, you've come full circle to promoting the next event.
The fostering recruitment hub
Westco is a not-for-profit that's owned by Westminster Council, and we provide marketing services to local authorities all over the country. We launched the fostering recruitment hub to provide an online sharing and learning zone open to councils and council-owned organisations such as trusts and council-owned IFAs. It's a place to share best practices and benchmark activities, and we host regular webinars providing information on the latest innovations and successes. Join the hub to share in these learnings.