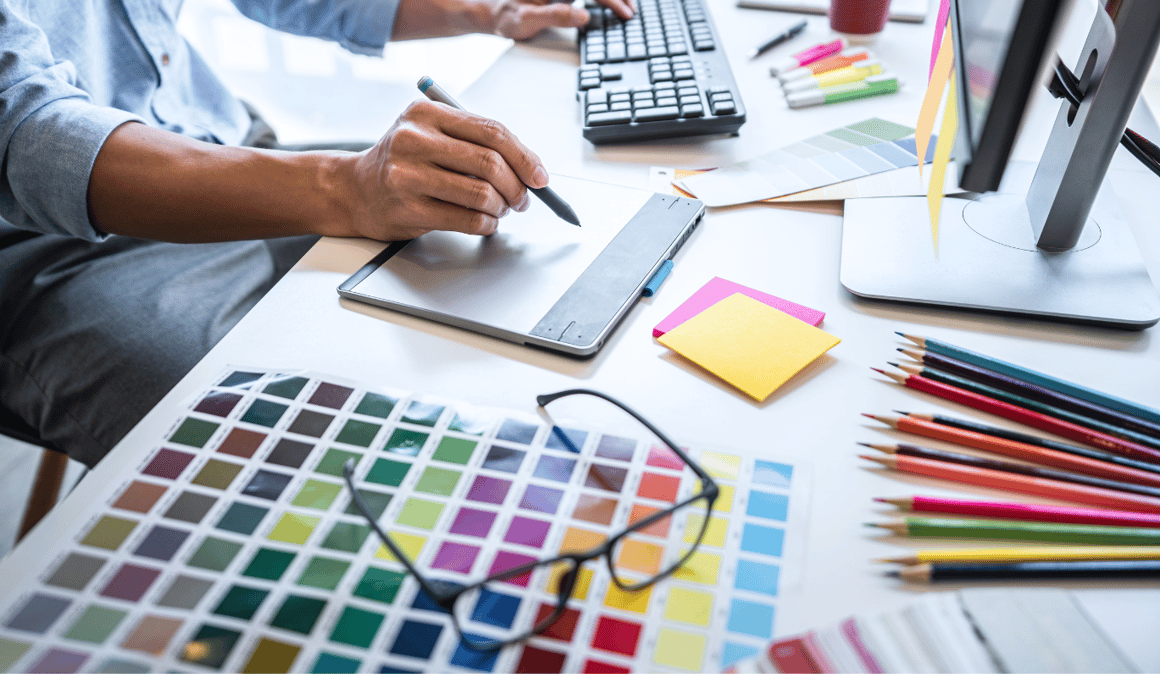 Sourcing a creative expert for a role or project can be a nebulous and confusing task, especially if you're new to this process.
Not only will you have a résumé to look through with many skills you may not be familiar with, but most creative professionals, be they writers, designers, or creators, will have a portfolio (or maybe even a 'reel') containing their best work for you to evaluate as well.
Being able to judge this portfolio will be just as important as understanding their résumé. Even more so in fact, after all, not every footballer who spent a few years at Manchester United turns out to be Cristiano Ronaldo!
Similarly, creative professionals can have a résumé packed with famous clients and agencies, but they may not have been behind the great work there. A résumé will tell you where they worked, but a portfolio will show you if your potential recruit is a star striker or a perennial benchwarmer.
Hiring dynamite creatives needn't be a minefield
A portfolio demonstrates style, as well as ability: designers, writers, and illustrators all have their own unique take on the world. Some are like chameleons and can change their style for an audience, but others will develop a 'house' style of their own which is applied to all their work.
For example, the public sector has a large emphasis on accessibility, so when it comes to asset creation, it's important to have people who are sympathetic to this and can work within those parameters. You don't want to hire a left-field designer who produces beautiful but illegible layouts.
Terminology can be confusing as well!
You may want a designer, but what kind of designer? What was once quite a specific role can now encompass graphic designers (people who design logos), editorial designers (someone who lays out a publication), typographers, and art directors...
So, really understanding the difference between the skillsets is important as they are not 100% interchangeable. In fact, at university, graphic design and editorial design are separate degrees.
The same is true of writers and copywriters. Many writers who work in public sector communications have a degree and background in journalism. That's ideal if you want a press release or news content, but not ideal if you need video scripts.
There are also copywriters who learned their trade in advertising: great for short punchy campaign messages, but not so great for a 150-page report. And there's now a new generation who write purely for the web. You'll often see a job advert for a 'web copywriter' – someone who specialises in minimalist copy that's easy to read, instructional, and SEO-friendly.
Who are creatives?
People think of creatives as temperamental, eccentric beasts, but we're not, (not all of us anyway). However, good creatives care passionately about their craft and will defend it. If they push back on suggestions and feedback, it's normally because they believe it will make the end result less impactful or less effective.
They may be right, they may not, but if you're the sort of person who wants everything done exactly how you say, you should bear this in mind when having initial conversations with potential recruits.
Lastly, some creatives will be more collaborative than others, so before you commission anyone, decide if you need someone who is happy to work in isolation or if you need them to be part of a team.
Our top tips
Make sure you know the creative skills you require, and look for evidence of it in a portfolio. Can they draw? Can they use humour? They don't need to have the exact campaign you're looking for already in there, but you should be able to see all the skills you need on show.
Judge a portfolio by its worst campaign, not its best. After all, a portfolio shows the best work someone has done, not the average output.
Check they have the right delivery skills and experience in the medium you need. They may be a great designer, but do they design what you need?
Like all hires, it's not just about experience or quality, it's about fit. Talk to them to get a feeling of how easy or difficult they may be to work with.
Don't be afraid to get a second opinion on their work, especially if you're not in the target audience for the campaign or deliverables you have in mind. After all, creativity is subjective.
Interim communications support
Whatever your creative challenge, Westco Works is here to help you get the right people for the job. We have access to a broad range of creative specialists with an even broader range of skills. An interim creative expert is a great way to recruit speedily, start a new team, or simply bring in some skilled resource to help deliver a specific project. 

Even if you don't know what skill set you need, or how long you might need someone to step in for, if you have a role or a project that needs to be implemented, reach out to see how we can help. Email Nalini at nalini@westcocommunications.com, call us on 020 7641 5242, or use the form below to get in touch.
Author
Jon Lilley - Executive Creative Director for Westco Communications